SEO for WordPress
SEO is ideal for those who want to build a sustainable business that lasts into the future.
We are specialists in SEO for WordPress Websites
WordPress is the most popular platform used to build websites and is especially good for SEO. We want you to get the best results and having a website in WordPress makes it much easier for us to get you amazing results.
SEO SERVICES for WORDPRESS
We work with two main types of Businesses
Local Businesses – even though we can work with a business anywhere in the world our aim is to bring you clients from your local area. Your local area might be your local city or suburbs or towns.
Retail Shops and Online Stores – You may want people to come to your local store from the local area or your online store from anywhere in the world.
If you are also keen to improve the impact, you have on people, animals and the environment then we would especially love to work with you.

Why SEO is so good as a long term strategy buts sucks in the short term
SEO is a great long-term strategy because it keeps building on itself exponentially.
With other advertising like Google and Facebook ads, you stop getting leads when you stop paying. Also, with ads, as time goes by you generally receive fewer leads for the same money.
However, with SEO you may invest the same amount each month and as time goes by you get more and more leads.
For example if you invest $1000 a month you might find that in the 1st year the traffic you get from SEO may have only cost you $200 a month if you had got it with ads. However, by the third year you are paying $1000 a month for traffic that would cost $6000- $12000 a month to get from ads. That is the power of SEO. After 2-3 years our clients end up with waiting lists, needing to employ new staff or even the ability to franchise.
See Results
Click here to see our case studies and SEO results
Contact us to see if we can help your business today
The graph below shows the kind of results you can expect from SEO and the time frame in which they occur.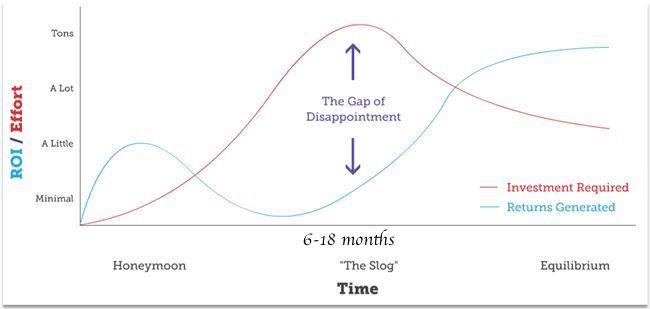 WordPress Website SEO Tasks
PHASE 1 
The aim is to set up your whole website to give you the best ability to rank for every keyword that is relevant and likely to bring you traffic. This sets up your whole website with the aim of bringing you significantly more website traffic in the future than you would receive if we just focused on specific keywords.
We track 50-400 keywords each month depending on what is relevant for your website.
This phase can take 1-6 months depending on the size of your website and your monthly investment
Examples of some of the 70 SEO Set Up tasks that we undertake
Check your WordPress Settings to ensure they are the best settings for SEO
Installing WordPress plugins that are necessary for SEO and setting them up for you
Setting up and or accessing and checking Google Analytics
Setting up and or accessing Google Webmaster Tools and using it to download a list of your backlinks, checking for errors (eg 404) and page indexing, and submitting your sitemap if required while also checking for any other errors
Submitting your website to Bing and sitemap to Bing Webmaster tools
Using Screaming frog website scrapper to get a list of all your current pages, SEO titles and Descriptions, Urls', heading tags and more so these can be assessed for any errors
Checking for any website errors in the pages that are indexed in Google
Checking your 404 error page to see if it is user-friendly
Checking if your website is mobile-friendly
Ensuring Address and location details are visible
Use Copyscape.com and Siteliner.com to check for duplicate content on your website
Keyword research to find the most effective keyword phrases for your home page and service pages on your website and to determine what extra content needs to be written
Adding your keywords to keyword ranking software
Optimise as many of your current service pages/blog posts/products with appropriate keywords in the SEO title, meta description, H1, H2, image tags and urls. (obviously, the time taken to do this can vary greatly if a site has 10 pages compared to 1000 pages)
Internal linking and calls to action if required
Setting up and or optimising your Google Plus Business Page
PHASE 2 
In this phase we focus attention on specific high conversion keywords depending on your level of investment.
So we aim to work with you based on the specific services that you really want to grow
Everyone has 24/7 Access to monthly ranking data
Includes
1. High-level optimisation of the page or pages that are relevant to the keywords we are targeting
2. SEO link acquisition for example from – business directories, competitor backlinks, social media, YouTube, infographics, question sites, internal linking, claiming image links etc depending on what is relevant for your industry
3. Error checking to ensure that unforeseen circumstances are not impacting your website (hacking, broken links, 404 errors, duplicate content etc)
4. Access to monthly ranking data and work completed 24/7
5. Review strategy to make sure everything is on track Also includes access to – free video and written training on blog post keyword research, writing and optimisation if you want to write them yourself
Also, includes access to – free SEO training via video and written training so that you can write blog posts yourself if you wish.
WordPress SEO Prices
Strawberry

Mango

Pineapple

Type of Business

Physical Business, Service Business or Online Store with less than 10 competitors in your target location. (less then 10 other businesses that do what you do in that loaction)
Physical Business with more than 10 competitors in your location. You are targeting your specific location eg Mooloolaba and then long term a larger location eg Sunshine Coast
Service Business or Online Store with more than 10 competitors in your location. You are targeting large areas eg Sunshine Coast or Brisbane or Australia or World

Your Goal

To get to the 1st page of Google and eventually number 1. You want people searching in Google to think you are the best of your type of business in your location.
To get to the 1st page of Google and then to the top 3 on the 1st page. You want to employ more staff and maybe open more locations or franchise.
To get to the 1st page of Google and then the top 3 on the 1st page. You want to grow a big business over the next 3-5 years, employ more staff, create more services, target more locations.

Investment monthly

Minimum

$375+gst

Minimum

$750+gst

Minimum

$1000+gst

Reports

3/year

4/year

6/year
Reports Contain
Ranking data for priority keywords showing best rank month by month
Google Analytics data showing traffic to the website each month and in comparison to the same time last year. This helps to see progress and also which pages are getting the most traffic. Therefore helps with improving conversions. We can also report social traffic if relevant
Google search console data with keywords and clicks to website
YouTube traffic data if relevant
Custom data that you specifically want to be reported.
Extra Reports $50 + gst  
The more businesses we help the more we can Give Back to the community
Contact us to find out more and to see if we can help your business grow and become very fruitful indeed.
 —————————————————————————–
ONE OFF SEO Services
1. Listings for Local Business
Investment: $397 incl GST per 10 listings
For each set of 10 directories we either
List you in the directory as a new listing.
Update a listing that is incorrect.
If we find a correct listing in a directory we will note that for you but won't include it in the 10
We start with the directories that have the highest impact 1st
This can be done on a monthly basis where we check and add you to 10 directories a month.  Or you could invest in 40 directories upfront. Directory listings are all done manually by staff in Australia. Directory listings help you rank for your business name as well as city and suburb keywords. You receive a list of all your directory listings and passwords if provided by the directory.
2. Keyword Research
1. Research around volume of searches in a niche for potential book or domain names.
$500 + GST
2. Research for pages that you already have on your website – see example
$75 a page + GST
3. Content Writing:
SEO Service Pages to target specific keywords – $200 + gst
Page to promote a service that has high Google searches – 300-400 words added to website with an image and optimised
SEO Blog Posts – $300 + gst
Keyword research blog post written 800-1000 words, added to website with an image and optimised.
To book an appointment to discuss your website please email me.